Skip Navigation
Website Accessibility
Instrument Repairs and Service
Repairs on Guitars, Ukuleles, Band and Orchestral Instruments, and more.
If you need an instrument repaired, bring it on by. We provide expert work on guitars, basses, ukuleles, and other fretted instruments. We can service your woodwind or brass instrument as well!
FRETTED INSTRUMENT REPAIRS
Guitar restrings include installing new strings, cleaning the guitar, polishing the fingerboard, minor adjustments, and tuning. A guitar set-up includes all involved with a restringing plus fine tuning the guitar action by making adjustments to the neck, bridge, and nut. Electronics can also be repaired, adjusted, and modified.
Other instruments serviced include banjos, bass guitars, mandolins, ukuleles, etc.
We do restringing, bridge set-up, bow repair, and other work to orchestra strings like violins, violas, and cellos too.
WOODWIND & BRASS REPAIRS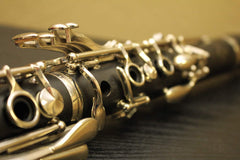 We offer routine maintenance as well as full overhauls on woodwind instruments. Brass instruments can receive a chemical cleaning, dent removal, as well as valve and slide work.
ACCORDION REPAIRS
We do routine cleaning, lubricating, tuning, as well as full overhauls on accordions. Bring your instrument by for an estimate.
Please give us a call at (630) 434-2480 or email us today with questions.